S9 Gölsdorf-Naundorf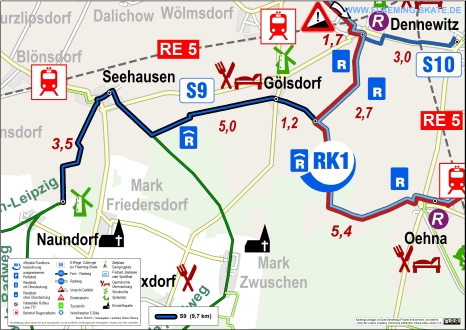 Anspruch:
einfach
Besonderheiten:
Die mit S 9 gekennzeichnete Strecke verbindet die Flaeming-Skate mit dem überregionalen Radwegenetz (R 4)
Angeschlossene Orte:
Gölsdorf, Seehausen, Naundorf
Bahnanschluss:
Blönsdorf -
von dort ca. 1 km auf der Landstraße nach Seehausen
Sehenswertes:
Museumsscheune in Seehausen und Turmholländermühle in Naundorf.
Grade
Features
The S9 path joins the Flaeming-Skate to the interregional cycle path network (R4).
Towns and villages connected by the path
Gölsdorf, Seehausen, Naundorf
Places of interest
Museum Barn in Seehausen and windmill in Naundorf.
Gölsdorf-Naundorf Path
The S9 begins 65.2 kilometres along the Flaeming-Skate between Dennewitz und Oehna. This 2 metre wide cycle path, suitable for skating, takes you as far as Naundorf in Saxony-Anhalt, where it joins the interregional R4 cycle path.
However, the first place you reach on your way through the fields is Gölsdorf – a typical Fläming linear village. From quite a distance you can already see the timber-framed tower of the church and a post mill windmill.
The path continues to Seehausen. Join in the celebrations when the residents revive the old festivals in the 'Kulturscheune' cultural centre. It's around 1000 metres along the road from here to the station in Blönsdorf. The RE4 (Rathenow - Lutherstadt Wittenberg line) stops at the station every 2 hours.
Even the section from Seehausen into Saxony-Anhalt is well paved and suitable for skating. Although skaters will have to call it a day in Naundorf, cyclists can carry on. You can reach the river Elbe in just 14 kilometres along the Elbe-Seyda cycle path...
If you stop off in Naundorf, you should definitely take a look at the Dutch tower mill, which was built in 1911 and was in use as a motor-driven mill until 1969. This venerable old building has been under reconstruction since 2000. You can get further information on this website under the heading "Places to visit – Windmills".
Track data
Length:

9,73 km

Width:

2 m