S7 Hohenseefeld - Dahme - Wildau-Wentdorf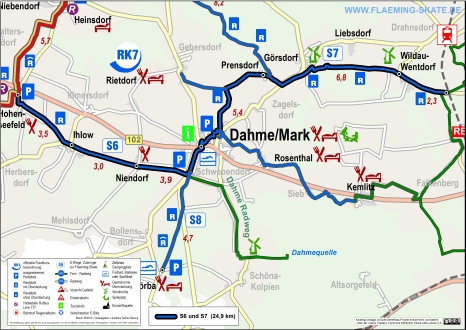 Features
The S6 path runs from Hohenseefeld to Dahme/Mark, the S7 path runs from Dahme/Mark to Wildau-Wentdorf
Towns and villages connected by the path
Hohenseefeld, Ihlow, Niendorf, Dahme/Mark, Prensdorf, Görsdorf, Liebsdorf, Liedekahle, Wildau-Wentdorf
Places of interest
The two-towered stone church at Ihlow, the medieval town centre, castle ruins and animal park in Dahme/Mark, water mill at Wildau-Wentdorf
Swimming
Dahme/Mark open air pool
Rail connections
Drahnsdorf
4 km from here to Wildau-Wentdorf
Follow the main street through the village in the direction of Dahme/Mark, on leaving the village a cobbled road branches off to the left towards Wildau-Wentdorf (follow the signpost Dammühle").
To the mills of Wildau-Wentdorf
Start your tour in Hohenseefeld. There are no spectacular uphill or downhill sections here. Glide leisurely through the fields of Lower Fläming, well away from road traffic. From quite a distance you'll see Ihlow's village church greeting you with its twin towers.
After about 10 kilometres you'll reach Dahme/Mark. Take off your skates and take the opportunity for a break in Dahme's historical center, where you'll find inviting restaurants and cosy pubs. Otherwise, follow the Flaeming-Skate along the old town wall through the castle park, past the ruins of the once splendid baroque castle. Having reached the park gates, it's only about 150 metres further along a quiet road to the Wildau-Wentdorf section. The asphalt path of the Flaeming-Skate resumes at the 'Sportwelt Dahme' sports centre.
You soon find yourself back in the countryside. The scenery here is characterised by the Dahme river and its wetland areas. Having crossed the road behind Prensdorf, the path carries on through woods and fields towards Wildau-Wentdorf, the most easterly point in Teltow-Fläming. You can still find old windmills in Liebsdorf and Liedekahle. These villages can be reached by making a detour from the Flaeming-Skate. The historical watermill in Wildau-Wentdorf is waiting for you at the end of the path, where you can also stop for a bite to eat. You can carry on by bicycle along the 'Gurkenradweg' or 'cucumber cycle path', connecting the neighbouring district of Dahme-Spreewald. You can reach the station in Drahnsdorf (RE5) about 4 kilometres along the local link road.
Track data
Length:

14 km

Width:

2 m