Circuit RK 6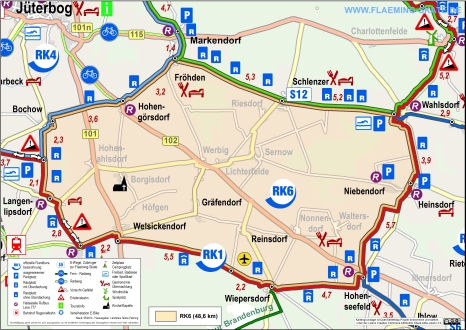 Features
Uphill and downhill slopes near Schlenzer, between Körbitz and Langenlipsdorf and Niebendorf-Heinsdorf and Wahlsdorf
Towns and villages connected by the path
Langenlipsdorf, Körbitz, Welsickendorf, Wiepersdorf, Hohenseefeld, Niebendorf-Heinsdorf, Wahlsdorf, Schlenzer, Fröhden, Hohengörsdorf
Places of interest
Wiepersdorf Manor House and Park, windmill in Wahlsdorf
Swimming
Wahlsdorf open air pool
Interlinking cycle paths suitable for skating (2 m wide)
Hohenseefeld - Dahme - Wildau-Wentdorf
Recommended car parks
| | |
| --- | --- |
| Hohenseefeld | in the village |
| Niebendorf-Heinsdorf | at the restaurant Heinsdorf |
| Wahlsdorf | open air pool |
Circuit RK 6 – Down south!
The new RK 6 circuit splits the almost 100 kilometre long RK 1 circuit. Like its big brother, the whole length of this 48 kilometre route is 3 metres wide and covered with the smoothest asphalt!
The RK 6 has long, straight sections between Welsickendorf and Hohenseefeld, where you'll easily find your feet if you are a skating beginner or have small children with you. The uphill and downhill gradients between Langenlipsdorf and Körbitz are a bit more challenging, as are those near Wahlsdorf. This is where you need some skating experience and the appropriate safety gear.
You can also take a break in the villages along the RK 6 circuit in one of the rustic village pubs or a shady beer garden. You'll even find a small camp site right next to the RK 6 in Körbitz.
Discover country life – where it still seems that all's right with the world! Buy fresh fruit and vegetables from farmers, rest by an idyllic village pond or enjoy yourself at one of the numerous village festivals in summer. It's also worth taking a detour on the S6, S7 cycle path to Dahme, where you can revive yourself at the open air swimming pool, visit the local recreation area of Körbaer Teich (Körba pond), or the water mill in Wildau-Wentdorf.
Track data
Length:

40,620 km

Width:

3 m