Circuit RK 5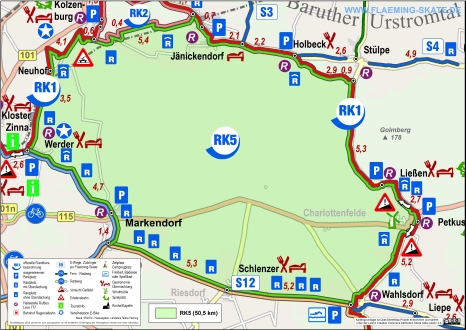 Features
Uphill and downhill slopes near Schlenzer, Ließen, Petkus, Wahlsdorf
Towns and villages connected by the path
Luckenwalde, Kolzenburg, Neuhof, Werder, Markendorf, Fröhden, Wahlsdorf, Petkus, Ließen, Holbeck, Jänickendorf
Places of interest
Luckenwalde district town, windmills in Wahlsdorf and Petkus
Interlinking cycle paths suitable for skating (2 m wide)
Holbeck - Stülpe - Baruth - Glashütte - Friedrichshof (access to the Gurken-Radweg (gherkin cycle path), through roads not always suitable for skating) Between Holbeck and Jänickendorf turn-off to Gottow, cycle path from there to Luckenwalde
Recommended car parks
| | |
| --- | --- |
| Luckenwalde | Teichwiesenweg/Elsthal, Parkhaus Am Nuthefließ car park |
| Kolzenburg | Skate-Point |
| Werder | entry road |
| Markendorf | on the main 115 |
| Wahlsdorf | Open air pool |
| Petkus | Sports ground |
| Ließen | At the restaurant "Zum kühlen Grunde" |
| Holbeck | At the restaurant "Zu den Eichen" |
Rail connections
Luckenwalde
Follow the signposting or use the
Map: Footpath from station through the town centre to the starting point at the District Council building
Circuit RK 5 – Half a hundred – full of fun!
You know the RK 4 marathon circuit inside out, but you don't quite have the confidence for the almost 100 kilometre RK 1? Even so, you don't have to let boredom take over: The RK 5 is beckoning you! Its entire 52 kilometre length is covered in 3 metre wide smooth asphalt and has many diversions along the way.
You'll find long straight sections here too, where beginner skaters and those with young children easily find their feet. More skilled skaters are in their element up and down the hills between Wahlsdorf, Petkus and Ließen - provided they have skating experience and appropriate safety gear.
You'll find everything the tourist heart desires in the towns and villages along the RK 5 circuit: There are cosy restaurants, quaint beer gardens and accommodation to suit every purse, as well as places you can hire skates and bikes or get them repaired.
What is there to see? If you're arriving in Luckenwalde by train, take the little detour via the market place and pedestrian precinct to the starting point at the District Council Offices. The market tower, St Mary's church and the local history museum give you a glimpse of what Luckenwalde looked like in the Middle Ages. On a second glance you discover the numerous art nouveau buildings, bearing witness to the town's former wealth, hardly more than 100 years ago. You can take part in traditional festivals in the villages along the way, discover the simple beauty of the village churches, and taste or take away a few Flaeming specialities!
Track data
Length:

50,550 km

Width:

3 m