S 13 Wahlsdorf - Prensdorf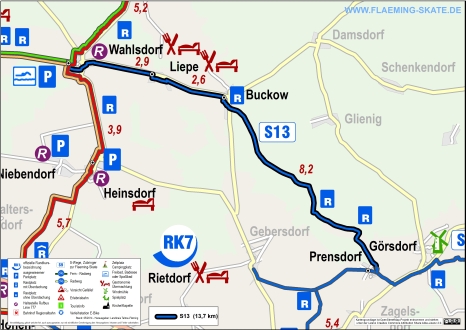 Towns and villages connected by the path
Wahlsdorf, Liepe, Buckow, Görsdorf, Prensdorf, Dahme/Mark, Niendorf, Ihlow, Hohenseefeld, Niebendorf-Heinsdorf
Places of interest
windmill in Wahlsdorf, historic swimming-pool in Buckow (closed)
Swimming
Recommended car park
Open air pool Wahlsdorf
Through forest and field
Wahlsdorf is an excellent starting point to explore S13. Crossing the village the path leads along fields in direction Liepe, where you can watch the riding club's equestrians practicing with their horses or attending top-class competitions. The little village Buckow offers a – even though not usable anymore – architectural treasure: its bath! A small photo exhibition informs of its history.
In direction Prensdorf you will find a challenge: an arduous gain in the pine tree forest and a strong gradient will ask your entire concentration.
From Prensdorf the tour continues on the RK 7 to Dahme or leads back to Wahlsdorf. Here and there you can refresh yourself in an open air swimming pool.
Track data
Length:

13,7 km

Width:

2 m