Circuit RK 2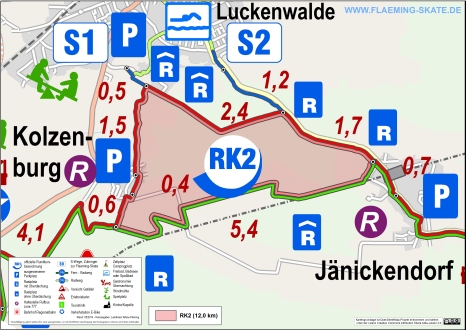 Towns and villages connected by the path
Luckenwalde, Kolzenburg, Jänickendorf
Places of interest
Luckenwalde:
medieval market tower, early 20th century architechture, Mendelssohn Hall, town theatre built in the Bauhaus style
Interlinking cycle paths suitable for skating (2 m wide)
Luckenwalde – from Teichwiesenweg car park into the town centre
Circuit RK 2 - ideal for beginners
You're a beginner on skates or have children with you? Then the RK2 is your circuit! It takes you along around twelve kilometres of track without any noticeable hills, through woods, meadows and fields. The RK2 accompanies the local road between Luckenwalde and Jänickendorf, running parallel to the tracks of the former Zossen-Jüterbog 'cannon railway', which today provides fun and excitement as Germany's longest handcar and trolley car track. You can start your tour of the RK2 quite conveniently in the district town of Luckenwalde. There is a rail connection here, as well as great starting points onto the Flaeming-Skate. One skating track leads directly from Teichwiesenweg car park into the town, where you'll find many leisure and sports facilities.
Track data
Length:

12,047 km

Width:

3 m