The bicycle circuit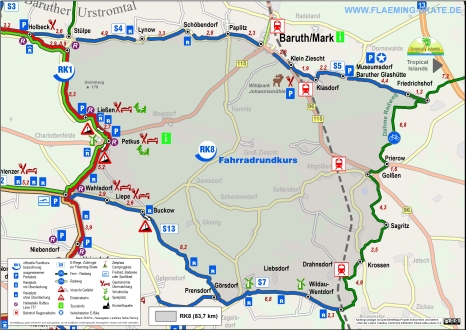 Grade
Easy to difficult
Features
Uphill and downhill slopes near Ließen, Petkus, Wahlsdorf.
Outside if the Flaeming-Skate track and crossing the villages alongside S4 (Holbeck-Friedrichshof)the trail is not covered with asphalt.
Towns and villages connected by the path
Stülpe, Lynow, Schöbendorf, Paplitz, Baruth, Klein Ziescht, Klasdorf, Glashütte, Friedrichshof, Prierow, Golßen, Sagritz, Krossen, Falkenhain, Wildau-Wentdorf, Görsdorf, Buckow, Liepe, Wahlsdorf, Petkus, Ließen
Places of interest
Stülpe Manor and park, Stülpe church with baroque interior, Oscar Barnack Museum in Lynow (inventor of the Leica camera), St. Sebastian church, Baruth Manor and Park, Johannismühle Wildlife Park, Baruth Glashütte museum village, water mill at Wildau-Wentdorf, windmill at Wahlsdorf
Sports and adventure parks
Baruth Glashütte museum village
Tropical Islands (distance ca. 17 km)
Swimming
Dahme/Mark and Wahlsdorf open air pools
Interlinking cycle paths suitable for skating (2 m wide)
S4 and S5 to Friedrichshof (part of new bicycle circuit RK 8(clink to cucumber cycle path)
S13 to Prensdorf (part of circuits RK and RK 8)
Recommended car parks
| | |
| --- | --- |
| Wahlsdorf | at the open air pool |
| Petkus | at the sports ground |
| Ließen | at the restaurant "Zum kühlen Grunde" |
Rail connections
Klasdorf-Glashütte

Follow the cycle path in the direction of Baruth or Glashütte (opposite direction)
Baruth/Mark

Follow the road in the direction of the town centre/roundabout (Baruth station is only recommended for cyclists)
Drahnsdorf
4 km from here to Wildau-Wentdorf
Follow the main street through the village in the direction of Dahme/Mark, on leaving the village a cobbled road branches off to the left towards Wildau-Wentdorf (follow the signpost "Dammühle").
Circuit 8
The tracks of Flaeming-Skate and Dahme-Radweg (Dahme cycle path) add up to a 83 km circuit which leads through a charming landscape. Make a stop at Baruth Glashütte – a listed museum village of gaffers - or at Johannismühle Wildlife Park!
Track data
Length:

83,7 km

Width:

2-3 m