S8 Dahme-Körbaer Pond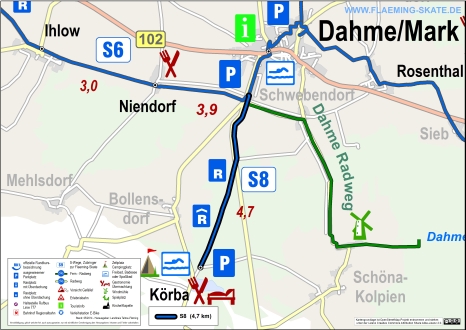 Features
Particularly wheelchair-friendly
Towns and villages connected by the path
Dahme, Körba Pond recreation area
Places of interest
Medieval town centre, castle ruins and animal park in Dahme/Mark
Swimming
Dahme/Mark open air pool, Körba Pond bathing area
Recommended car parks
Dahme/Mark "Sportwelt" sports centre
Dahme/Mark-Körba Pond Recreation Area
Start your tour at the 'Sportwelt' sports centre in Dahme/Mark. Follow the asphalt track through the castle park, past the little zoological garden and the romantic castle ruins. The path continues along the old town wall, circling the bird tower, to where the Flaeming-Skate branches off in the direction of Tränkestraße. Follow the asphalt track and you will have soon left the little town with its romantic old town centre behind you.
The path now leads you through the woods to the Körba Pond recreation area, where you can go swimming, boating or go for a walk and get a bite to eat at the campsite bistro.
However, it's also worth looking in on Dahme/Mark itself. The beautiful timber-framed houses and little shops in the town centre, the English style castle park and traditions such as the annual potters' market are well worth a visit. The residents of Dahme have made a point of making their region accessible to the disabled. As well as a barrier-free town centre circuit, there is also a large hotel which offers rooms suitable for wheelchair users.
Track data
Length:

4,7 km

Width:

2 m