Circuit RK 4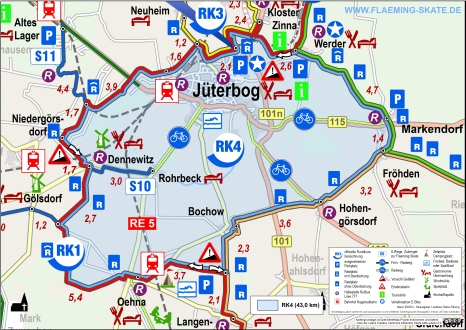 Features
Uphill and downhill slopes between access to the RK 1 and Oehna as well as at the monument hill in Niedergörsdorf
Towns and villages connected by the path
Werder, Markendorf, Fröhden, Hohengörsdorf, Bochow, Oehna, Dennewitz, Niedergörsdorf, Jüterbog, Kloster Zinna
Places of interest
Grounds of the Cistercian monastery with St Mary's church and show distillery, Kloster Zinna Weaving Museum, monuments to the Napoleonic wars in Dennewitz, Dennewitz Wedding Barn, historical old town of Jüterbog.
Swimming
Open air swimming pools in Oehna and Jüterbog
Interlinking cycle paths suitable for skating (2 m wide)
Hohengörsdorf - Jüterbog; Jüterbog - Rohrbeck - Dennewitz; Jüterbog - Kloster Zinna
Recommended car parks
| | |
| --- | --- |
| Werder | entry road |
| Oehna | swimming pool |
| Jüterbog | Skate Arena |
Rail connections
Follow the signposting or use the
Map: Footpath to starting point Bülowstraße/corner of Tauentzienstraße
Oehna
Follow the signposting
Circuit RK 4 – the marathon track
Are you training for a skating marathon or do you like to be out on your bike for longer stretches? Then you must get to know the RK 4! At around 45 kilometres long, it provides you with sporting challenges and sights worth seeing. You'll definitely enjoy the view from Werder to Jüterbog or the vista from Fröhden to Hohengörsdorf...
Skate from Jüterbog through the idyllic Flaeming villages, exercising your stamina and skill! Take a break to stop at the monuments to the Napoleonic wars around Dennewitz or at the region's former military estates. Refresh yourself in the open air swimming pools of Oehna and Jüterbog, or sample some history in Kloster Zinna.
You could make your finishing line the Jüterbog Skate Arena – Germany's most attractive speed skating track.
Track data
Length:

43,025 km

Width:

3 m