Skaters or cyclists – who have the right of way?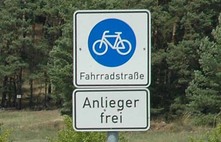 The Flaeming-Skate has been designated as a cycle track.
The provisions of the highway codes concerning the use of tracks apply to cycle tracks.
Here are the most important points for cycle tracks:
Whenever possible keep to the right, not only when there is oncoming traffic, but also when being overtaken, where the track cambers, around bends or when the track ahead is not clear.
The following also apply:
Vehicle users other than cyclists may only use cycle tracks insofar as is permitted by additional signposting.
All vehicles may only be driven at a reasonable speed, i.e. where they can stop without needing to brake sharply.
Cyclists may also ride side by side.
It is especially important for skaters to know that, according to the highway code, they are considered pedestrians and that they should conduct themselves on the cycle track as they would on any other carriageway. That means that they should use the outside edge of the track if no separate footpath is available.
Skaters never have the right of way! - Whether regarding cycle traffic or other authorized motor vehicles. This also applies when vehicles cross the track from a side road. This is a significant difference between skaters and cyclists.
All users of the Flaeming-Skate - whether skaters, cyclists or motorists – are therefore requested to use particular caution and consideration to ensure that a day out is a wonderful experience.

Have a good time!
With regards from your Road Traffic Department
Contact
Landkreis Teltow-Fläming
Traffic Department
address

Am Nuthefließ 2
14943 Luckenwalde
Germany

phone

+49 03371 608-2701

fax

+49 03371 608-9080

e-mail

web
Opening hours
Opening hours

Mon 9.00 to 12.00 and
13.00 to 15.00
Tue 9.00 to 12.00 and
13.00 to 15.00
Thu 9.00 to 12.00 and
13.00 to 17.30
Fri 9.00 to 12.00
<!- /de/testlinkliste.php -->