By bus or train
You can get to the following Flaeming-Skate starting points via the Regional Express (RE) and the Ostdeutsche Eisenbahn GmbH (ODEG) trains:
Luckenwalde, Jüterbog, Oehna, Zellendorf, Niedergörsdorf, Blönsdorf

RE3 Stralsund/Schwedt - Berlin Hbf - Falkenberg/Lutherstadt Wittenberg

(toLuckenwalde and Jüterbog monday-friday also RE4)

Baruth, Klasdorf-Glashütte (nur für Fahrradfahrer geeignet)

RE5 Rostock/Stralsund - Berlin Hbf -Elsterwerda/Finsterwalde

Altes Lager, Jüterbog

RB33 Berlin-Wannsee - Treuenbrietzen - Jüterbog
0700 RUFBUS (call-a-bus)
The RUFBUS is a special service operated by the Teltow-Fläming Transport Association (Verkehrsgesellschaft Teltow-Fläming). The Skater-Shuttle picks you up and takes you to any stop along the Flaeming-Skate. It runs on Saturdays, Sundays and on public holidays, as well as during the Berlin and Brandenburg summer holidays. You can also take your bike with you by notifying the company two days before travel. You can find out more by clicking the following link:
From the train station to the Flaeming-Skate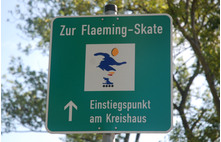 The way from the station to the starting point at the District Offices in Luckenwalde is well signposted for skaters. Follow these signs!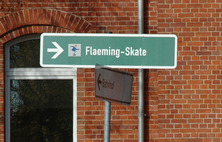 In Jüterbog use the underpass from the platform in direction Jüterbog II. Follow the signposting (appr. 3 min. walking). This way is nos suitable for inline skates. Start skating at Bülowstraße/Tauentzienstraße.
Contact
VBB Verkehrsverbund Berlin-Brandenburg GmbH
address

Hardenbergplatz 2
10623 Berlin
Germany

phone

+49 030 25414-0

fax

+49 030 25414-112

e-mail

web
<!- /de/testlinkliste.php -->